All you need to know about MSME
Micro, Small And Medium Enterprises Under MSMED Act, 2006:  Who is covered by MSME, before and after change?
The definition of MSME is changed by the government. It is clarified by FM in her speech in economy package. Let us first have a look, what is that change?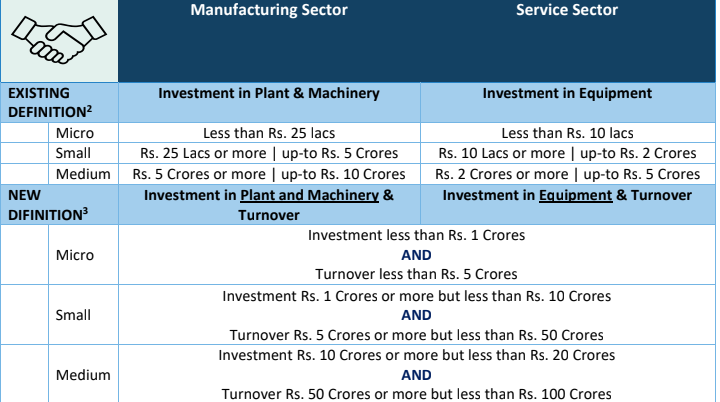 Notes
a) Who are covered?
proprietorship,

Hindu undivided family,

an association of persons,

co-operative society, partnership firm,

company or undertaking,

by whatever name called, is allowed to be registered as MSME.
b) What is included and excluded in investment in Plant & Machinery- See annexure 1
c) Definition of equipment
Related Topic:
What are the benefits for MSME in India?
I. the set of articles or physical resources serving to equip a person or thing: such as
i. the implements used in an operation or activity
ii. all the fixed assets other than land and buildings of a business enterprise
iii. the rolling stock of a railway
II. a piece of such equipment
Annexure-1 




Specific exclusions for calculation of investment in Plant & machinery
Items

Basis of Value

Reference

Cost of pollution control, research and




development, industrial safety devices, and specified items.

Original price (whether




plant & machinery new




or old)

Explanation 1 to section




7(1) of the MSMED Act,




2006

Tools, jigs, dies, molds and spare parts for maintenance and cost of consumable stores

 

 

Installation cost

 

 

Research and Development equipment and pollution control equipment

Original price (whether




plant & machinery new




or old)

 

Power generation set and extra transformer as per regulation of state electricity board

 

Notification No S.O.




1722(E) dated 5th




October 2006

Bank charges and other charges paid to NSIC or SSC

In the case of imported




machinery, import duty,




custom clearance




charges, shipping




charges, taxes will be




excluded

 

Parts and consumables required for providing electricity to plant and machinery or other safety measures.

 

 

Gas producer plants

 

 

Transportation charges for local machinery from a place of manufacture to the site of enterprises

 

 

Technical know-how charges for the erection of plant and machinery

 

 

Raw material storage tanks

 

 

Firefighting equipment

 

 
Registration under the MSMED Act
✓ Visit this link for the official website of MSME "Udyog Aadhaar Portal"
✓ Mobile must be linked with AADHAAR as OTP based authentication
✓ No documents to upload
✓ No government fees
✓ Instant registration certificate once fills all information and click submit.
Download the copy: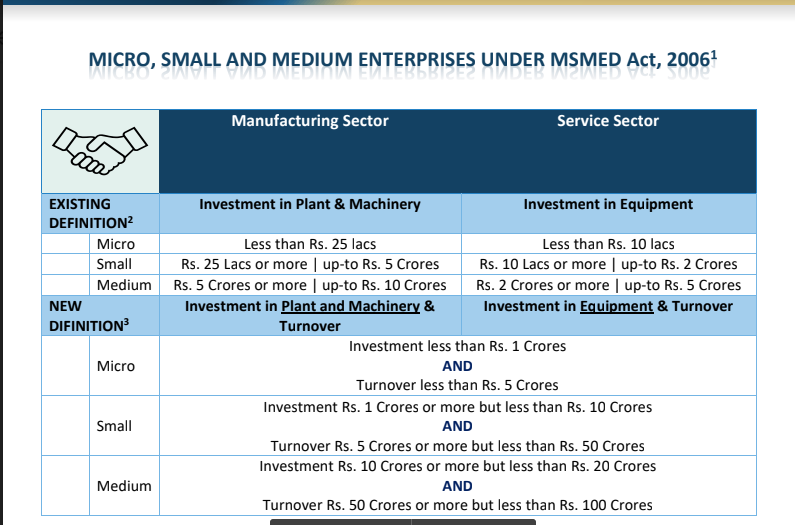 Hope it was helpful for you.
Discuss Now
Opinions & information presented by ConsultEase Members are their own.