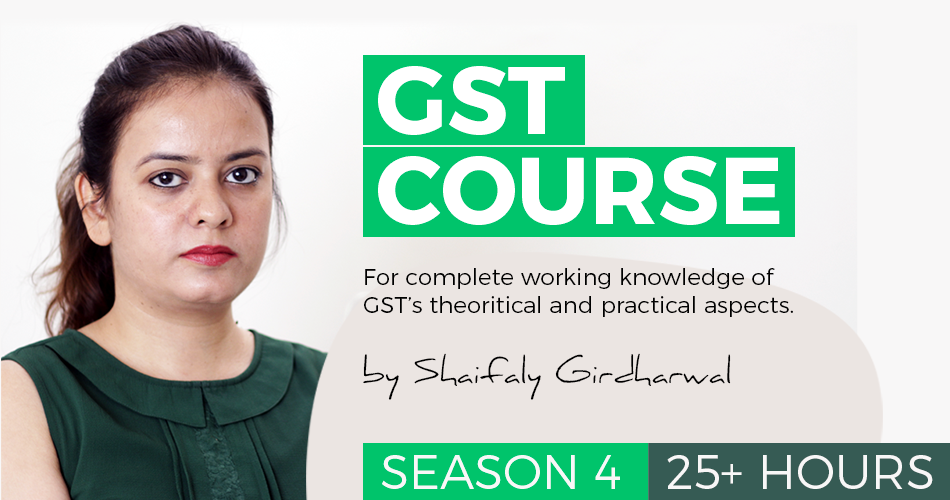 About GST Course Season #4
The GST course Season #4 consists of recorded videos of the live webinar course by CA Shafaly Girdharwal held from 7 Dec 2019 to 5 Jan 2020. It covers major topics of GST including the discussion on conceptual and practical issues. GST provisions are explained from bare Act to and provisions related from GST portal are covered in this course. It is beneficial for GST consultants, Chartered Accountants , Tax Advocates, Corporate employees, business owners and for people who wanted to make carrier in GST regime. It consists all the updated content till the date. It also Contains the Q&A on practical issues.
Why is it the best course on GST?
The content of this course covers the GST from basic concepts to the practical issues. It covers right from the constitutional amendment Act that introduced the GST in India. Complex practical issues like an input tax credit, refund and search , seizure, and arrest are covered with simple provisions like supply and levy. It is one of the best GST courses in India. It is in normal Hindi language so that the people from various areas can understand it. Apart from the basic law, important cases are also discussed in it. Faculty of this course Ms. Shafaly Girdharwal is quite experienced and is famous for her way of delivery. She is a youtuber with more than 2.33 subscribers. In this course, the certificate is also provided after the completion.
Course features


Intense Learning of more than 25 hours


More than 50 Case Laws, AAR, AAAR and related Documents


QA session every month with updates


Live Demo For all the compliances on GST Portal


Real time Query resolution during the live webinar


Access to recording of the sessions for Revision


Weekend Classes (Saturdays & Sundays)


Session consists of 2 Hours of Learning & Half Our of Query Resolution


Certificate by ConsultEase after clearing the Online Exam


The new returns of GST are going to applicable from April 2020.


The filing of various new forms.


Annual return and audit.


Filing of refund in GST using a new refund portal applicable from 26th Sept 2019.


E-Invoicing which is going to change a lot in GST


Conceptual clarity on all major provisions and compliances.


Training on portal for major compliances of GST


FAQs
Do I need to have some specific qualifications?

A simple commerce graduate can also understand it. The course is delivered in very simple language. But then even if you are a practicing professional, it is quite helpful for you.

How can I raise a query?

We have a monthly QA session in which you can raise a query in a live webinar. In case you want to raise a text query you can raise it via the chat window at your dashboard.

What is the duration of course?

The course contains a detailed discussion for 25+ hours. Apart from that PPTs and practical issues are also covered. PDF with the answers to the FAQ's by the faculty are also covered.

Who is the faculty for this course?

The faculty for this course is Ms. Shafaly Girdharwal. She is a qualified CA. Specifically working in the area of GST. She is a famous orator to deliver the complex provisions in easy to understand and simple language.

Will I get the certificate of this course?

Yes a certificate for the completion, of course, is provided to every participant of the course.

What is the limit on viewing of Course?

You can view the course for an unlimited time. There is no such restriction on view hours.

What other resources will be available for me in this course?

You will get a presentation of every session. Also the bare Act amended with all the changes is available for you. The original copies of the case laws discussed are available for download at your videos dashboard.