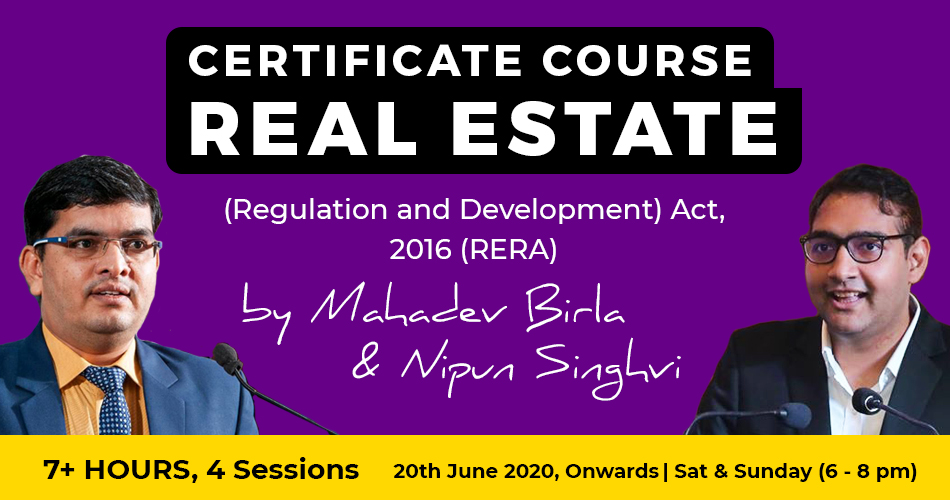 About Certificate Course in Real Estate (Regulation and Development) Act, 2016 (RERA)
Certificate Course in Real Estate (Regulation and Development) Act, 2016 (RERA). One of the most diversified field. It is a good opportunity to work as there are very few experts in this field. Since the introduction of RERA in India, compliances of real estate projects are complex and need an expert to handle it. Inspired by the diversity of this field and demand of professionals, we designed this course. It covers major aspects related to RERA in India.

CA Madhav Birla & CA Nipun Singhvi are the trainers of this course. They have a deep understanding of this area. Practical exposure in the field can help participants in the handling of cases. The course will cover the following:

1. Applicability - Project, and Agent

a. RERA Registration- Procedure, approval, and extension.

b. Revocation of Registration and its effect.

c. Duties of Real Estate Agent

d. Documentation- Brochure, Advertisement, Agreement to sale and sale deed

2. Obligations and responsibilities of Promoter/Legal Aspects

a. Responsibilities towards project, allottee and Authority

b. Structure of Authority for redressal of grievance

c. Composition of Authority/Appellate Tribunal

d. Drafting and filing of Complaint /Appeal

3. The interplay of RERA with Consumer Law, IBC, and Competition Law.

4. Overview of Civil and Criminal Remedies.

5. Case Law study and its effect on Stakeholder- Amrapali, Neelkanth Realtor and JP Group.
Schedule/Timing:
Session 1 - 20th June 2020 (6 pm - 8 pm)

Session 2 - 21st June 2020 (6 pm - 8 pm)

Session 3 - 27th June 2020 (6 pm - 8 pm)

Session 4 - 28th June 2020 (6 pm - 8 pm)
Who should buy


Students


Professionals


Employees


Consultant


FAQs
Q. What and why RERA?

A. RERA i.e. Real Estate Regulation and Development Act, 2016 is first time a law has been introduced to organize the real estate sector and protect the consumer basically homebuyers but has over the period helped genuine builders and also brokers to bring transparency in the business. Timely possession and delay entail compensation together with a heavy penalty in case of false promises and wrong assurance of facilities.
Q. How this beneficial for professionals?

A. This is a very new law and this law provides good opportunities for CA, CS, ICWA, Advocate, Architect, and Engineer. Very few professionals are working in this field and this law is applicable in every state/UT. As of today almost more than 50000 projects, 40000 agents are registered under RERA.

It is the second-largest sector in terms of contribution of employment and investment to GDP.
Q. What type of opportunities are for professionals?

A. Registration of project, Quarterly compliance, litigations/drafting, etc
Q. What is the content of the RERA certificate course?

A. Registration and compliance, duties and rights of the promoter, allottee, and agents, how to file a complaint, drafting of the complaint, interplay of RERA with Consumer Law, Civil, Criminal, and Insolvency law.