MSME Loans – Sailent Features
10 Fast Facts to note before you are planning to avail Collateral Free MSME Loan from Bank/ NBFCs/ of total announced INR 3,00,000 Crores[through the Guarantee of National Credit Guarantee Trustee Company Limited]:-
1. The Scheme is valid only for existing customers/ Borrowers of the Bank.
Borrower account(s) with the Bank must at least be 60 days old as on February-29-2020.
2. All Business Enterprises/ MSME borrower accounts with combined outstanding loans across all Banks/ Financial Institutions of up to INR 25.00 Crore as on February-29-2020 and an annual turnover of up to INR 100.00 Crore for FY 2019-20 are eligible under the Scheme.
Related Topic:
Features of Various Credit Schemes Available for MSMEs and How to Apply for Them?
3. Type of Loan: Pre-Approved Loan Maximum amount of Loan to be given: INR 5 Crore.
4. A separate Loan account shall be opened by the Bank for the borrower, distinct from his all existing loan account(s);
5. In case, accounts for the FY ended March-31-2020 are yet to be audited/finalized, a Declaration of Turnover for the FY 2019-2020 shall be required to be furnished by the Borrower.
6. The disbursement of the loan shall be made only after approval of guarantee coverage from National Credit Guarantee Trustee Company Limited.
7. The Scheme would be applicable to all loans sanctioned under Guaranteed Emergency Credit Line [GECL] till October-31-2020; or till an amount of INR 3,00,000 Crore is sanctioned under the GECL, whichever is earlier.
8. Business Enterprises / MSME borrowers must be registered under GST.
9. The tenure of the loan shall 4 years from the date of disbursement. A moratorium period of 1 year on the principal amount shall be provided to the borrowers during which interest is to be payable.
10. Processing Fee: NIL | Documentation Fee: NIL
Related Topic:
What are the benefits for MSME in India?
Read the copy: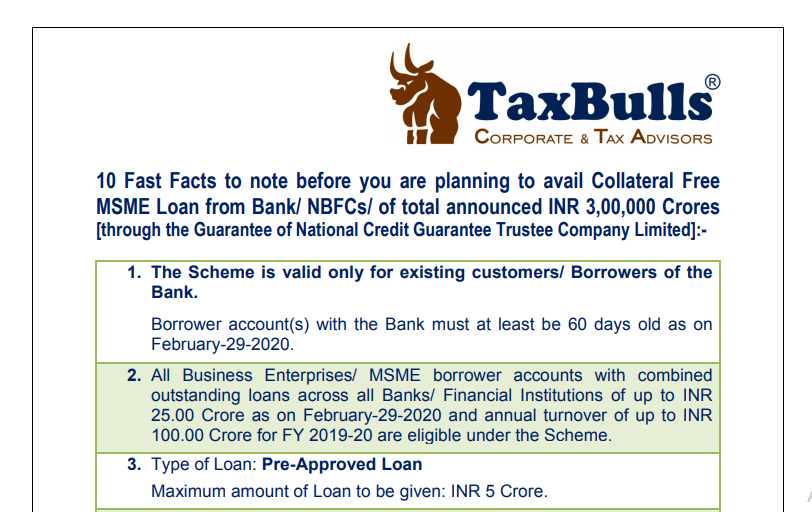 Discuss Now
Opinions & information presented by ConsultEase Members are their own.