Central & State Subsidies for Textile Industry
Importance of Textile Industry
• GDP – The textile sector plays an important role in the national economy owing to its major contribution to the GDP, industrial production, employment generation, and export revenue generation. The textile industry contributes 14% of India's industrial production and 4% of its GDP.
Importance of Textile Industry
• EMPLOYMENT – The textile industry is one of the leading employment-generating industries in the country, employing approximately 5 crore people. The Indian textile industry has the second-largest industrial capacity in the world.
• EXPORTS – TEXTILE INDUSTRY accounts for 13% of total exports. The market for readymade garments is divided into three segments viz. domestic market, industrial market, and international market. Out of the total readymade garments production, 60% is consumed in the domestic sector, 21% is consumed in the industrial sector while 19% is exported.
Why subsidies to Textile?
• FOR VALUE ADDITION – INDIA IS A MAJOR EXPORTER OF RAW COTTON AND RAW MATERIAL FROM INDIA
• CONCEPT OF "FIBER TO FASHION", IS INTRODUCED, MAKE IN INDIA
• STRATEGIC STRENGTH OF INDIA – Availability of raw material, skilled manpower, and lower production costs are its key strengths India has efficient rail, road, port, and airport infrastructure for connectivity, availability of electricity, skilled manpower, and abundantly available cotton
Sources of Subsidies
A TEXTILE INDUSTRY IN MAHARASHTRA GET SUBSIDIES FROM 3 DEPARTMENTS
1. Central Textile Department
2. State Textile Department
3. State District Industries Center – DIC
Central Subsidy – ATUFS
• ATUFS – AMENDED TECHNOLOGY UPGRADATION FUND SCHEME
• SUBSIDY DETAILS – WHAT SUBSIDY and PERIOD OF SCHEME
1) ATUFS DURATION – 13TH Jan 2016 to 31st March 2022 (Expected that the period will be increased in view of a pandemic)
2)NEW AS WELL AS EXPANSION UNIT DURING SUCH PERIOD
3) CIS – CREDIT LINKED SUBSIDY
Which Units Are Eligible –
1) Weaving and Knitting
2) Processing of Fibers, Yarns, Fabric
3) Technical Textiles
4) Garments and made up units
5) Handloom Sector
6) Silk Sector
7) Jute Sector
What Are Important Considerations –
1) Specification for Technology for the machines would be prescribed annually
2) Machinery – Directly from Machine Manufacturer or Agent
3) TAMC – Shall specify the indicative list of manufacturers
4) Machinery with lower technology won't be applicable
5) List only Suggestive – Regularly updated and can also
6) Second Hand Machinery not eligible
7) Accessories – up to 20 % of the Cost of Machinery is eligible
8) Machinery shall not be disposed of before 10 years
What Is UID And When To Apply
1) UNIQUE IDENTIFICATION NUMBER ( UID ) – means provisional approval for an estimated capital subsidy based on a tentative estimate of specified machinery
2) Application has to done within 6 months from the Date of Sanction of Loan.
3) Scheme Is Credit Linked – Only Units Having Term Loan Of Min 50% Of Eligible Machine Cost. Min Repayment period of 3 years for MSME
4) Full Subsidy will be released in one Go
5) Machinery Purchased after Sanction of Term Loan only eligible
Read & Download the full Copy in pdf: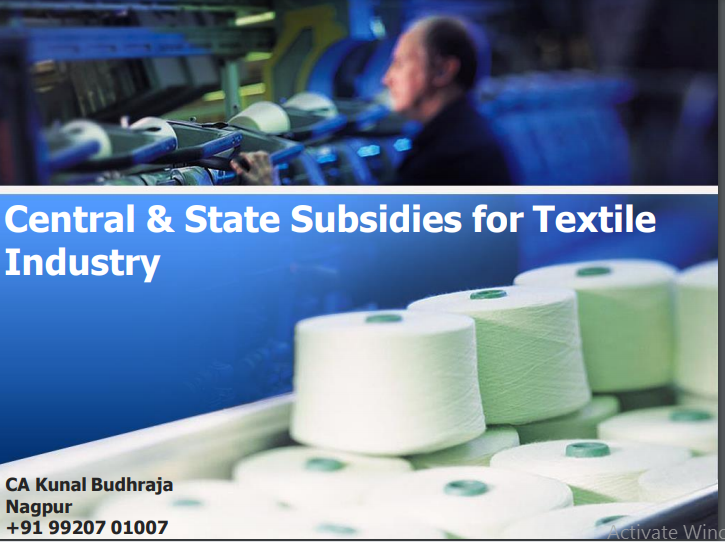 Discuss Now
Opinions & information presented by ConsultEase Members are their own.