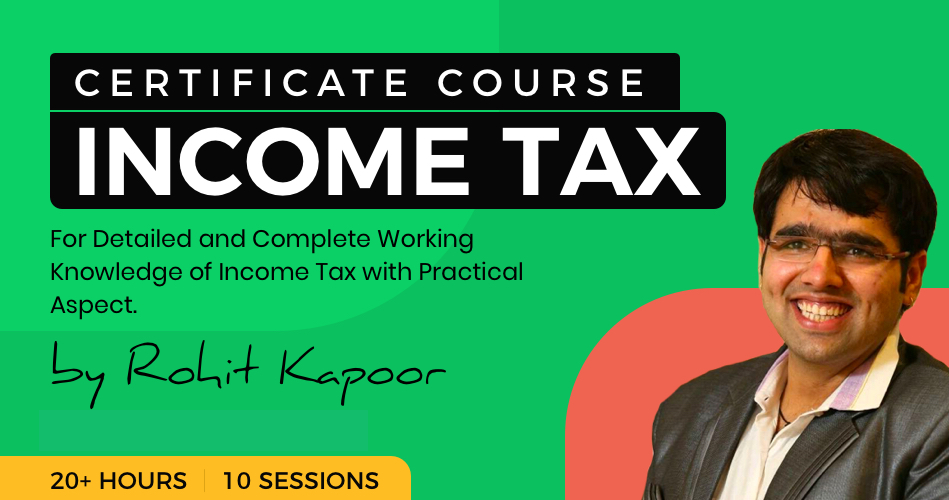 About Certificate Course On Income Tax
Corona is promoting make in India. This can bring a huge opportunity for tax professionals having practical knowledge. Many people are losing jobs but this will result in a spike in Industrial activities and startups. We configured this Income tax course to train the professionals with concepts and practices. The biggest gap in education is that practical subjects are covered by teachers who don't have any practical exposure. But here we have made the change. The faculty for our course is catering to many industries and know what is the niche requirements. Its sessions are taken by an experienced CA having practical industry experience of more than 10 years. Rohit has trained many corporate employees. Thus it will cover not only the theory but the practical aspects also. Our aim is that one can cater to the industry immediately after taking this certificate course. Consultease has already conducted many courses for professionals. Corporates value our courses because they are practical and nurture a ready to employ participant. Tax planning is very crucial for the individual as well as business enterprises. Proper tax planning can be done with an in-depth knowledge of all the Provisions of the Income Tax Act which would help you understand the applicability of the Provisions and how it will affect your entity. This certification course on Income Tax provides you the In-Depth Knowledge of Income Tax Law, which will help you enhance your personal and professional growth.

After Completion of this Certificate Course on Income Tax, you will be able to handle Income Tax Challenges in your Business and Practice. This course on Income Tax will enhance your knowledge as well as the confidence to handle the Litigations Matter with the Income Tax Authority and to serve your clients in a more efficient way. You will be able to handle not only the routine compliances but also the proceedings at the department.

This Online Income Tax Certificate Course covers a detailed analysis of major aspects of Income Tax Law with special focus on Tax Planning, Filing essential Compliances, Handling Online e-Assessments & e-Proceedings, Income tax Health Check-up, Limiting Taxation Disputes, etc. and Certificate shall also be given after the completion of the full course.
Even after this course, you can connect with your trainer for practical requirements. He is not a typical teacher but a practicing professional, who knows what exactly is required at the workplace.
Schedule/Timing for the Certificate course on Income Tax
Session 1 - 15th June 2020(11 AM onwards)

Session 2 - 16th June 2020(11 AM onwards)

Session 3 - 17th June 2020(11 AM onwards)

Session 4 - 18th June 2020(11 AM onwards)

Session 5 - 19th June 2020(11 AM onwards)

Session 6 - 20th June 2020(11 AM onwards)

Session 7 - 21st June 2020(11 AM onwards)

Session 8 - 22nd June 2020(11 AM onwards)

Session 9 - 27th June 2020(11 AM onwards)

Session 10 - 28th June 2020(11 AM onwards)

Session 11 - 5th July 2020(11 AM onwards)

Session 12 - 25th July 2020(02 PM onwards)


Who should buy


Finance professionals like CA/CS/CMA/Lawyers who deal in taxation to meet their professional needs.


Business Heads, Business Owners, CEO, CFO, Finance Directors, Tax Directors, Analysts, Department Heads and Project Heads


SMEs, Traders, Tax Officials, Finance and Accounts Officers,


Professionals who want to shift from Finance to Taxation domain.


Income tax Practitioners.


Individuals/beginners seeking career opportunities in the taxation field.


Students of CA/CS/CMA/Graduation for gaining Income Tax Knowledge


FAQs
1. What about the Updates after the Course?

Our course on income tax will cover the resolution to queries even after the course. You can ask questions via Consultease dashboard. You can see below. There is a mechanism to raise queries. Good thing is that you can raise queries while watching the video also.


2. What about Practical Knowledge of the e-filing portal?

Will provide the Practical Training on e-filing portal I .r.t. filing of Appeal, e-Assessment, e-Proceedings, SFT Reporting, Tax Audit Reporting, etc. This will help you in completing the practical work confidently.

3. What other resources will be available for me in this course?

You will get a presentation of every session. Also, the short notes in PDF format will be provided for your future reference. The original copies of the case laws discussed are available for download at your videos dashboard. We also compile the questions asked during the live session. The answers are uploaded in pdf form.
4. What are the career opportunities if I take this Online Certificate course in Income Tax by ConsultEase?

Income Tax covers a wide area of not only the corporates and Industries but Individuals also. You can choose any of the following dimensions once you get the knowledge on Income tax.

- Practicing as a Consultant for various Income tax compliances.

- Work as an employee in the finance department of Corporates
- If you are already working, you can leverage your position with a detailed knowledge of provisions. Important tax planning tolls are also covered in the syllabus. It will help you in upgrading your position.

- Consulting for the corporates ad HNI's for Tax planning.

- Transfer Pricing Consultant, It is an emerging area for professionals. But very few professionals work in this area. There is a huge demand-supply gap. The reason is, most of the consultants do the routine compliances. They are not aware of this area. It needs specialization and hard work to leverage into transfer pricing. This course on income tax will provide you with the important concepts related to transfer pricing.

- International Taxation Consultants

- Handling the litigation at the Department level and in Various Courts. (Relevant Degrees for the litigation will be required, But yes deep knowledge of Income-tax provisions will also be required)
- If you are a Law graduate, the Income tax course is a must for you. If you want to serve as a corporate lawyer, you should have a deep knowledge of taxation provisions. IT is somehow easy for a Chartered accountant cum Lawyer. Because during the training of CA, they get through knowledge of Taxation. But for law graduates, detailed knowledge of taxation is a must to secure a bright career.



5. Is it beneficial for a business owner?

It is very important for a business owner. Even if you hire a consultant, you should be aware of the provisions. The overall impact of various Income tax amendments. Deep knowledge of taxation provisions plays a vital role in the success of your business. Many times people run good business but then lose all the growth due to lack of knowledge of taxation provisions. Income tax provisions have huge impact on business decision making. The person closing the deals should also be aware of the impact of a particular transaction from income tax point of view.

6. What is the benefit of this course for CFO's?

In the case of corporates, the number of compliances is high. What expenses will be allowed? Deduction of TDS and then filing of its return. Many income tax provisions impact your business decisions. A CFO is required to be updated with all those provisions that can impact their business. This course will be quite helpful for the CFO's. They will be able to understand the interplay of Income Tax provisions with routine decision making.



7. What is the minimum qualification required for this course?

This course is idle for practicing professionals and employees. But it can be taken up by the graduates also. They will have to work harder and a little will power will be required to grasp the provision. But here the video recording, of course, will help you. In case you find it hard to remember a provision you can listen to the relevant video again and again. After a repetition, provisions will get fixed in your mind. The course is in simple Hindi language. Anyone can understand it.



8. Why this course is better from others. Why we should go with the Consultease Certificate course on Income Tax?

The biggest difference between our course is that we focus on converting a participant into a professional. It is not just for a degree but for the actual, practical knowledge. Nowadays, Businesses are very to the point. They don't want to run behind the degree but they need someone who can start the work, without any training or support. Indian businesses face this challenge. The people they hire, have the degree but lack the acumen to perform the tasks. Here your trainer is not a teacher who never did the practical work himself. No, here your trainer is someone doing the practical work every day, catering to the Industry, handling the cases, and implementing the provisions in various businesses. Mr. Rohit Kapoor is a qualified CA, practicing in the field of Income tax only, for more than 10 years. Going through every change in the Law, every day for so many years. Analyzing the requirements of various corporates. He knows what a business need in an employee. So our goal is not to produce students or trainees but a performing employee or expert professional.
9. How Consultease Unique dashboard can help various participants of Income-tax course?
Our unique dashboard allows you to learn at your own comfort. You can watch the vides as many times you want. If you are new to taxation. Sit with a notebook and note the important provisions. Even if you miss something, you can watch it again. Then read the provisions from the bare Act. Watch it again. This will convert you into an expert. But if you already have the basic knowledge you can start with vides and by the end, of course, you will be updated. In day to day routine practice, whenever you feel stuck. Just login and see the relevant lecture. It is a great help for all participants.
Q.10 Whether there is any restriction on the number of views or a time limit to access the videos?
There is no such restriction. You can watch them repeatedly. But if you have purchased it with three month's recordings then the recordings will be available for three months only.