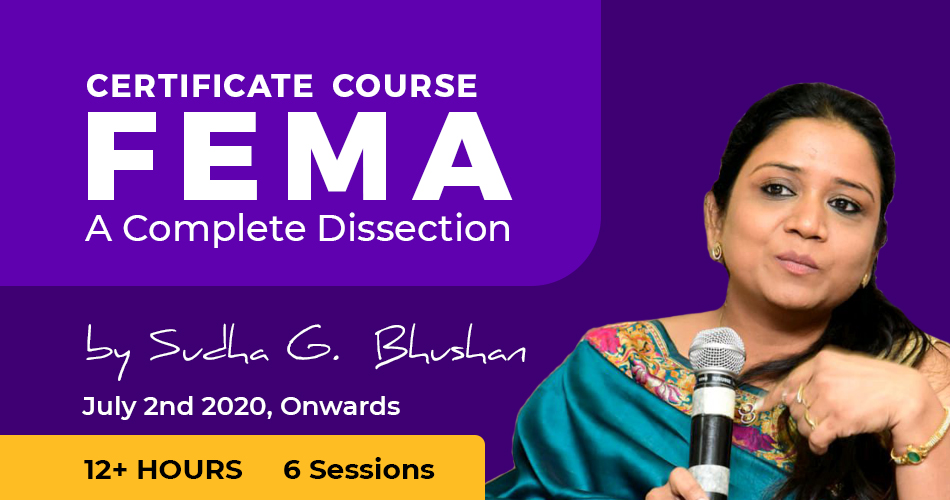 About Certificate Course on FEMA - A Complete Dissection
The first time the course from Ms. Sudha G. Bhushan, the person who conceptualized the due diligence under FEMA for the first time in 2013. Opportunity to learn from the expert who is an authority in the subject, have written more than 7 books best-selling books, have a decade of experience in intricate transactions, advisor of Banks and corporate houses in their international operations.

This course shall deal with all the provisions under the Foreign Exchange Management Act, 2000 including every section of the Act, all the relevant notifications, circulars, regulations, and rules. It shall start from conceptual level and go on to build the subject to deal with complex business transactions. There shall be a comprehensive discussion on all the practical aspects under FEMA.

It shall cover all types of entities – Company, LLPs, NRI, OCIs, Residents, FPIs, FVCIs, LO/BO/PO, and others. It shall cover all types of transactions relating to foreign investment in India, Indian investment outside India, Investment vehicles, lending and borrowings from outside India, Advance payment, Advance remittance, delay in payments, Compounding, Guarantee, pledge of shares, and others.

The subject shall be dealt with in an absolutely new and more practical manner. The first day shall be dedicated to detailed framework under FEMA covering the Purpose of FEMA, Capital, and Current Account Transaction, Residential Status, Framework of FEMA, regulators under FEMA, Different entities under FEMA, Rules, and Regulations under FEMA, Liberalised Remittance Scheme.

After understanding the framework of FEMA in detail on the first day on the second day the coverage of the second day shall be Foreign Direct Investment Policy, Non-debt instruments, debt instruments, Manner of investment, types, and modes of investment, Instruments of investments, procedure and compliance, Downstream Investment, Investment vehicles, and others.

On the third day, the coverage shall be the investment outside India by any Indian party. It shall include in detail Manner and mode of making the overseas investment, Indian party, obligations of the Indian party, calculation of Financial commitment and net worth, do and not while making ODI.

Also, everything relating to lending and borrowings from outside India shall be covered on the fourth day of the lecture taking the participants through all the relating provisions along with practical problems. On 5th-day participants shall learn about Non-residents Indians and Compounding including intensive coverage of compounding orders. Day 6 shall case studies, structuring, due diligence, and report writing in due diligence and other small remaining topics.
Schedule/Timing:
Session 1 - 2 July. 2020, Thu (5 PM - 7 PM)

Session 2 - 3 July. 2020, Fri (5 PM - 7 PM)

Session 3 - 6 July. 2020, Mon (5 PM - 7 PM)

Session 4 - 7 July. 2020, Tue (5 PM - 7 PM)

Session 5 - 8 July. 2020, Wed (5 PM - 7 PM)

Session 6 - 9 July. 2020, Thu (5 PM - 7 PM)