Demystifying The Interpretation of 'A Proviso'
Demystifying The Interpretation of 'A Proviso'
Compendium
• The proviso is generally not used but is resorted to providing conditions on riders to the main provisions.
• The proviso qualifies the generality of the main section or clause by inserting an exception and take out as it was, from the main clause, a part of it which, but for the proviso would fall within the main clause.
• It is a foreign text to the main text of the clause or section. Its function is to carve out an exception or exclusion to the main provision which otherwise would have been in the main section.
• It is important that a proviso must be construed harmoniously with the main statute so as to give effect to the legislative objective.
The proviso is an enacting provision?
Sales Tax Commissioner v. B.G. Patel 1995 (1) TMI 311 – SUPREME COURT) and Balachandra Anantrao Rakvi v. Ramchandra Tukaram 2001 (10) TMI 1103 – SUPREME COURT
• Court declined to read into any enactment words which are not to be found there and which would alter its operative effect because of provisions to be found in any proviso Relying on the said dicta Lord Goddard in Bretherton vs. United Kingdom Totalisator Co. Ltd. [(1945) 2 All.E.R. 202] held:-
A proviso is not to be construed as an enacting provision enabling something to be done which is not to be found in the statute itself.
• Proviso should not render itself otiose or ineffective or to render substantive provision redundant.
• The correct way to understand a proviso would be to read it in the context of the main provision and not in isolation.
The Fallacy
• The fallacy of the proposed method of interpretation is not far to seek. It sins against the fundamental rule of construction that a proviso must be considered in relation to the principal matter to which it stands as a proviso.
• It treats it as if it were an independent enacting clause instead of being dependent on the main enactment.
• The Courts, as, for instance, in Ex p. Partington [(1844) 6 Q.B. 649]., Re Brocklebank [(1889) 23 Q.B.D.461], and Hill v. East and West India Dock Co. [(1884) 9 App.Cas.448], has frequently pointed out this fallacy, and have refused to be led astray by arguments, which depend solely on taking words absolutely in their strict literal sense, disregarding the fundamental consideration that they appear in the proviso.
The Golden Rule
(Dwarka Prasad v. Dwarka Das Saraf 1975 (8) TMI 121 – SUPREME COURT)
A proviso ordinarily is but a proviso, although the golden rule is to read the whole section, inclusive of the proviso, in such manner that they mutually throw light on each other and result in a harmonious construction.

If the principal provision is clear then a proviso cannot expand or limit it. Sometimes a proviso is engrafted by an apprehensive draftsman to remove possible doubts, to make matters plain, to light up ambiguous edges
The function of the Proviso
• The normal function of a proviso is to except something out of the enactment or to qualify something enacted therein which but for the proviso would be within the purview of the enactment.
• As was stated in Mullins v. Treasurer of Survey [1880 (5) QBD 170], (referred to in Shah Bhojraj Kuverji Oil Mills and Ginning Factory v. Subhash Chandra Yograj Sinha (AIR 1961 SC 1596) and Calcutta Tramways Co. Ltd. v. Corporation of Calcutta (AIR 1965 SC 1728); when one finds a proviso to a section the natural presumption is that, but for the proviso, the enacting part of the section would have included the subject matter of the proviso.
• The proper function of a proviso is to except and to deal with a case which would otherwise fall within the general language of the main enactment and its effect is confined to that case. It is a qualification of the preceding enactment which is expressed in terms too general to be quite accurate.
Important Excerpts of the foreign judgments
"IF THE LANGUAGE OF THE ENACTING PART OF THE STATUTE DOES NOT CONTAIN THE PROVISIONS WHICH ARE SAID TO OCCUR IN IT YOU CANNOT DERIVE THESE PROVISIONS BY IMPLICATION FROM A PROVISO."
LORD WATSON IN WEST DERBY UNION V. METROPOLITAN LIFE ASSURANCE CO. (1897 AC 647) (HL)
VIII. "THIS WORD (PROVISO) HATH DIVERS OPERATIONS. SOMETIMES IT WORKED LIKE QUALIFICATION OR LIMITATION; SOMETIMES A CONDITION; AND SOMETIMES A COVENANT"
(COKE UPON LITTLETON 18TH EDITION, 146)
"IF IN A DEED AN EARLIER CLAUSE IS FOLLOWED BY A LATER CLAUSE WHICH DESTROYS ALTOGETHER THE OBLIGATION CREATED BY THE EARLIER CLAUSE, THE LATTER CLAUSE IS TO BE REJECTED AS REPUGNANT, AND THE EARLIER CLAUSE PREVAILS…. BUT IF THE LATER CLAUSE DOES NOT DESTROY BUT ONLY QUALIFIES THE EARLIER, THEN THE TWO ARE TO BE READ TOGETHER AND THE EFFECT IS TO BE GIVEN TO THE INTENTION OF THE PARTIES AS DISCLOSED BY THE DEED AS A WHOLE"
(PER LORD WRENBURY IN FORBES V. GIT [1922] 1 A.C. 256)
A statutory proviso "IS SOMETHING ENGRAFTED ON A PRECEDING ENACTMENT"
(R. V. TAUNTON, ST JAMES, 9 B. & C. 836)
"THE ORDINARY AND PROPER FUNCTION OF A PROVISO COMING AFTER A GENERAL ENACTMENT IS TO LIMIT THAT GENERAL ENACTMENT IN CERTAIN INSTANCES"
(PER LORD ESHER IN RE BARKER, 25 Q.B.D. 285)
'A PROVISO TO A SECTION CANNOT BE USED TO IMPORT INTO THE ENACTING PART SOMETHING WHICH IS NOT THERE, BUT WHERE THE ENACTING PART IS SUSCEPTIBLE TO SEVERAL POSSIBLE MEANINGS IT MAY BE CONTROLLED BY THE PROVISO'
(SEE JENNINGS V. KELLY [1940] A.C. 206)
PROVISOS ARE NOT THEORAM OF EUCLID
LENIGH VALLEY COAL CO. V. YENSAVAGE 218 FR 547
THE QUESTION IS NOT WHAT MAY BE SUPPOSED AND HAS BEEN INTENDED BUT WHAT HAS BEEN SAID.
"STATUTES SHOULD BE CONSTRUED NOT AS THEOREMS OF EUCLID". JUDGE LEARNED HAND
But words must be construed with some imagination of the purposes which lie behind them".
The relevance of 'CASUS OMISSUS'
Two principles of construction
• One relating to casus omissus and the other in regard to reading the statute as a whole – appear to be well settled.
• Under the first principle a casus omissus cannot be supplied by the Court except in the case of clear necessity and when the reason for it is found in the four corners of the statute itself but at the same time a casus omissus should not be readily inferred and for that purpose, all the parts of a statute or section must be construed together and every clause of a section should be construed with reference to the context and other clauses thereof so that the construction to be put on a particular provision makes a consistent enactment of the whole statute. 
• This would be more so if the literal construction of a particular clause leads to manifestly absurd or anomalous results that could not have been intended by the Legislature. "An intention to produce an unreasonable result", said Danackwerts, L.J. in Artemiou v. Procopiou (1966 1 QB 878)
• "is not to be imputed to a statute if there is some other construction available". where to apply words literally would "defeat the obvious intention of the legislature and produce a wholly unreasonable result" we must "do some violence to the words" and so achieve that obvious intention and produce a rational construction. (Per Lord Reid in Luke v. IRC (1966 AC 557) where at p. 577 he also observed:
"This is not a new problem, though our standard of drafting is such that it rarely emerges".
The golden rules for construing wills, statutes, and, in fact, all written instruments.
"THE GRAMMATICAL AND ORDINARY SENSE OF THE WORDS IS TO BE ADHERED TO UNLESS THAT WOULD LEAD TO SOME ABSURDITY OR SOME REPUGNANCE OR INCONSISTENCY WITH THE REST OF THE INSTRUMENT, IN WHICH CASE THE GRAMMATICAL AND ORDINARY SENSE OF THE WORDS MAY BE MODIFIED, SO AS TO AVOID THAT ABSURDITY AND INCONSISTENCY, BUT NO FURTHER"
(SEE GREY V. PEARSON 6 H.L. CAS. 61)
THIS PART OF THIS "GOLDEN RULE" MUST, HOWEVER, BE APPLIED WITH MANY CAUTIONS.
"THE PRECISE WORDS USED ARE PLAIN AND UNAMBIGUOUS IN OUR JUDGMENT, WE ARE BOUND TO CONSTRUE THEM IN THEIR ORDINARY SENSE, EVEN THOUGH IT LEAD, IN OUR VIEW OF THE CASE, TO AN ABSURDITY OR MANIFEST INJUSTICE. WORDS MAY BE MODIFIED OR VARIED WHERE THEIR IMPORT IS DOUBTFUL OR OBSCURE. BUT WE ASSUME THE FUNCTIONS OF LEGISLATORS WHEN WE DEPART FROM THE ORDINARY MEANING OF THE PRECISE WORDS USED, MERELY BECAUSE WE SEE, OR FANCY WE SEE, AN ABSURDITY OR MANIFEST INJUSTICE FROM AN ADHERENCE TO THEIR LITERAL MEANING"
(SEE ABLEY V. DALE 11, C.B. 378).
Read the Copy: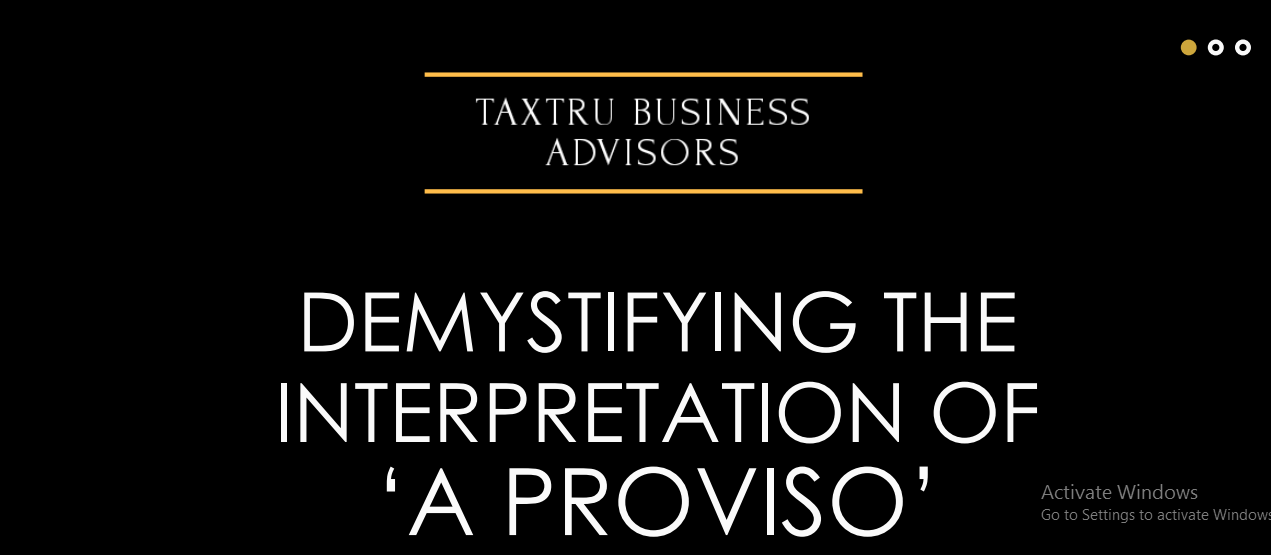 Discuss Now
Opinions & information presented by ConsultEase Members are their own.