Change in Income Tax Return Form – AY 2018-19
Change in Income Tax Return Form – AY 2018-19
Introduction:
The Central Board of Direct Taxes (CBDT) has notified Income Tax Return Forms (ITR Forms) for the Assessment Year 2018-19
There is no change in the manner of filing of ITR Forms as compared to last year. All these ITR Forms are to be filed electronically
All these ITR Forms are to be filed electronically.
However, where the return is furnished in ITR Form-1 (Sahaj) or ITR-4 (Sugam), the following persons have an option to file the return in paper form:
(i)an Individual of the age of 80 years or more at any time during the previous year; or
(ii)an Individual or HUF whose income does not exceed five lakh rupees and who has not claimed any refund in the  Return of Income.
—The changes are more disclosure-oriented in all the forms.
—All forms are now available to file electronically.
Download the full ppt by clicking the image: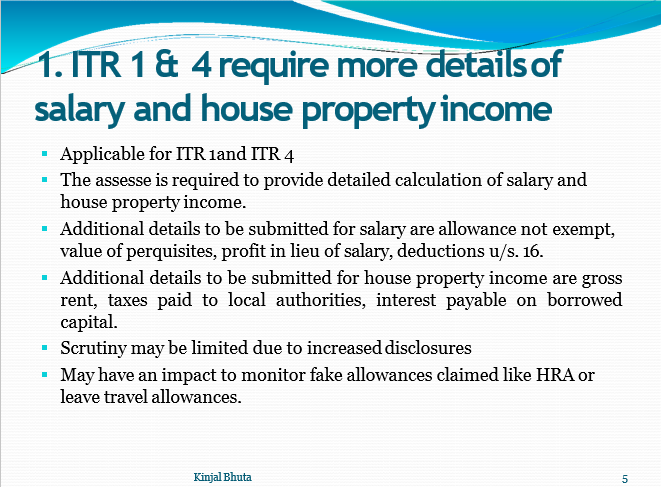 Forms – Applicability
— ITR 1 – Sahaj – Resident Individuals having income from Salaries, one house property, other sources and having total income up to Rs.50  lakhs.
— ITR 2- For Individuals and HUFs not having income from profits and gains of business or profession.
— ITR 3- For individuals and HUFs having income from profits and  gains of business or profession
— ITR -4 Sugam – For presumptive income from business and profession
— ITR-  5  –  [For  persons  other  than,-  (i)  individual,  (ii)  HUF,  (iii) company and (iv) person filing Form ITR-7
—ITR 6 – For Companies other than companies claiming exemption  under section 11
—ITR 7 – For persons including companies required to furnish return  under sections 139(4A) or 139(4B) or 139(4C) or 139(4D) or 139(4E) or  139(4F)
Stay informed...
Recieve the most important tips and updates
Absolutely Free! Unsubscribe anytime.
We adhere 100% to the no-spam policy.
See Profile
Opinions & information presented by ConsultEase Members are their own.