Arvind Kumar Munka V/s The Union of India
Arvind Kumar Munka V/s The Union of India
PETITIONER: Arvind Kumar Munka
RESPONDENT: Union of India
Read the full text of the case here.
FACTS:
Petitioner is a chartered accountant by profession who has submitted the bail application for an offence to issue GST invoices without any actual supply of goods or services in return of commission causing loss of more than 98 crores. Learned counsel of petitioner reiterated that commissioner has authorized investigating officer to arrest u/s 69 read with section 132(1) of CGST Act, 2017 but has not granted any mandatory sanction u/s 134 of CGST Act and thus prosecution is not maintainable.
HELD:
Though section 69(1) of CGST, 2017 confers power upon the Commissioner to order the arrest of a person for the cognizable and non-bailable offence that does not contain safeguard incorporated in Section 41 and 41A of the Code of Criminal Procedure, 1973 in view of the provision of Section 70(1) of the said Act same must be kept in mind before arresting a person. Keeping in view the amount of economic offence committed, the bail application is turned down but an option has been provided to compound the offence by paying at least 20% of the evaded amount on account of CGST.
Download the copy: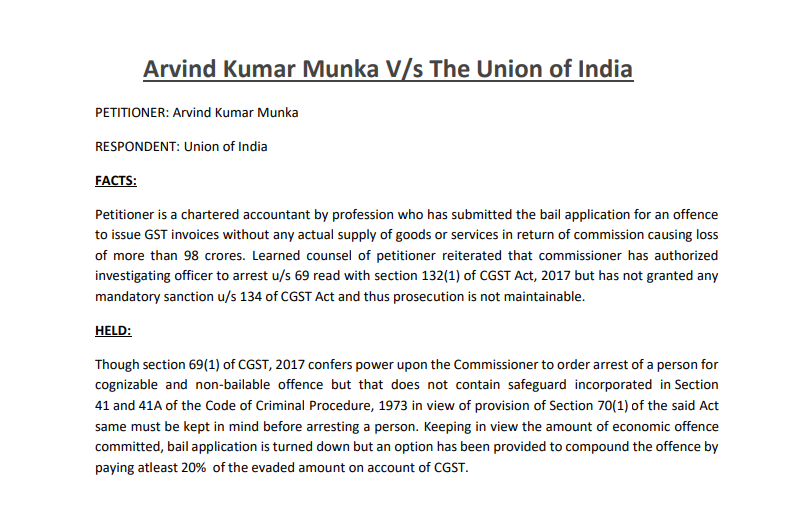 Discuss Now
Opinions & information presented by ConsultEase Members are their own.