Rule 42: simplified
Rule 42: simplified
Important point to take care
ITC of non business, exempted, section 17(5) and taxable including zero rated (T1,T2,T3,T4) supply is required to be declare every month while filing GSTR 2. GSTR 2 is pending for indefinite period by CBEC. It is advisable to give this consolidated amount in GSTR 3B.
2.Exp. to rule 43 provide that following shall not be included in exempted supply:
a) Export to Nepal Bhutan (they are covered in exempt supply via notification no.42/2017).
b) Interest earned on deposits or advances.
c) Transportation of goods via vessel from India to outside India.
3.When there is no turnover in any period Turnover of la st period when the figure of turnover is available shall be taken into consideration.
4.Any amount if Duty or tax levied under entry 84 of List I and entry no. 51 and 54 of List II of seventh schedule and shall be excluded from TT or ET.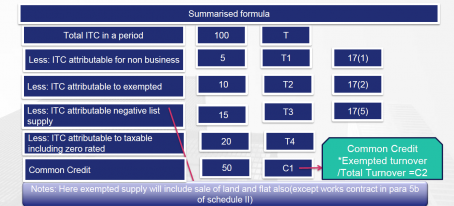 Stay informed...
Recieve the most important tips and updates
Absolutely Free! Unsubscribe anytime.
We adhere 100% to the no-spam policy.
See Profile
Opinions & information presented by ConsultEase Members are their own.