Key changes in Model GST Law
An amended version of Model GST Law ("MGL") has come into circulation in public domain through undisclosed sources. There is no authenticity which can be attached to the source of this document, however, the document contains certain suggestive amendments in track change mode in the original version of the MGL which was put into public domain by the government. The present document without going into the authenticity of the document, simply summarizes the main amendments as available.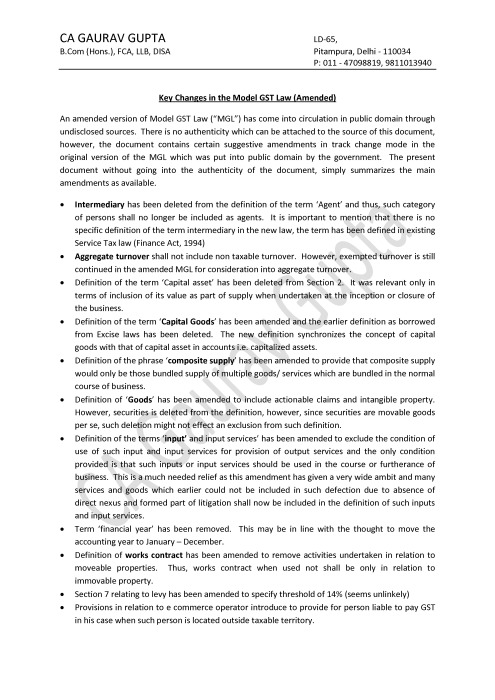 Winter session of parliament is live and there are expectation that government will try to pass Model GST law in this session.Although after demonetization it seems hard as opposition parties will not allow the smooth proceedings at parliament. A meeting of finance ministers was conducted some days back and there will be another meeting on 2-3 Dec on GST.
It is expected that in next meeting government will try to convince the states for pending GST issues. If Model GST law is not passed in current winter session it will cause delay in its applicability. Although budget session will be there in February but government is planning to make GST applicable from 1st April. If it is not passed in winter session itself it will be hard to make it live by April.After demonetization government machinery is already suffering by work overload. 
Some of these changes in Model GST Law may be real. As I mentioned earlier their source is not disclosed.If finalized these changes will address major issues in GST. 
Stay informed...
Recieve the most important tips and updates
Absolutely Free! Unsubscribe anytime.
We adhere 100% to the no-spam policy.
Discuss Now
Opinions & information presented by ConsultEase Members are their own.