Advance Authorization Schemes under GST
Advance Authorization Schemes  under GST
The vision behind the Foreign Trade Policy continues to be focused on making India a significant participant in world trade and on enabling the country to assume a position of leadership in international trade. The Policy is issued once in Five Years and the Current Policy is for the period 2015 – 20, Mid Term Revision was made on 5th December'2017.
The revised FTP focuses on the goal of exploring new markets and new products as well as on increasing India's share in the traditional markets and products, leveraging benefits of GST by exporters.
The FTP 2015-20 has 9 Chapters as depicted below.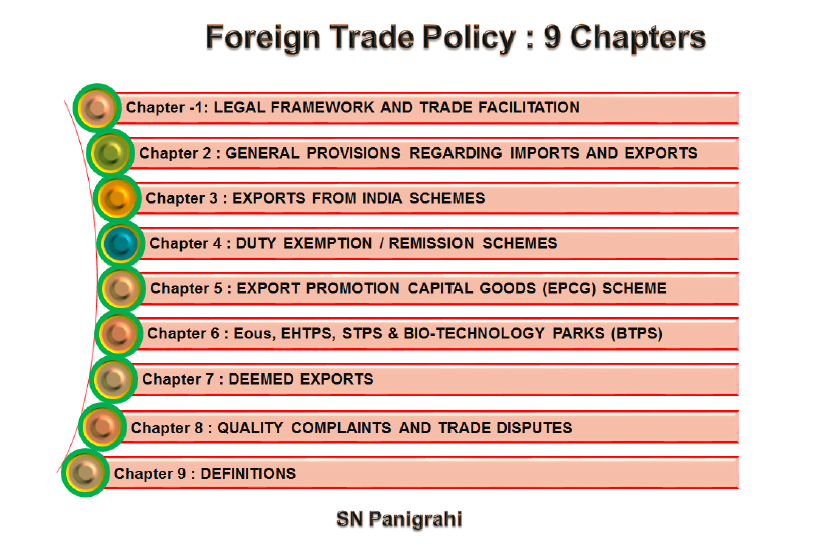 To help improve India's export competitiveness and deepen engagements with new markets, in the Foreign Trade Policy 2015-20 and other schemes provided promotional measures to boost India's exports with the objective to offset infrastructural inefficiencies and associated costs involved to provide exporters a level playing field and also neutralize incidences of Taxes and Duties.
Brief of the Advance Authorization Scheme under Chapter 4 of FTP shall be discussed here:
Chapter 4: DUTY EXEMPTION / REMISSION SCHEMES
Objective:
Schemes under this Chapter enable duty-free import of inputs for export production, including replenishment of inputs or duty remission.
Schemes
(a) Duty Exemption Schemes.
The Duty Exemption schemes consist of the following:
Advance Authorisation (AA) (which will include Advance Authorisation for Annual Requirement).
Duty Free Import Authorisation (DFIA).
(b) Duty Remission Scheme.
Duty Drawback (DBK) Scheme, administered by Department of Revenue.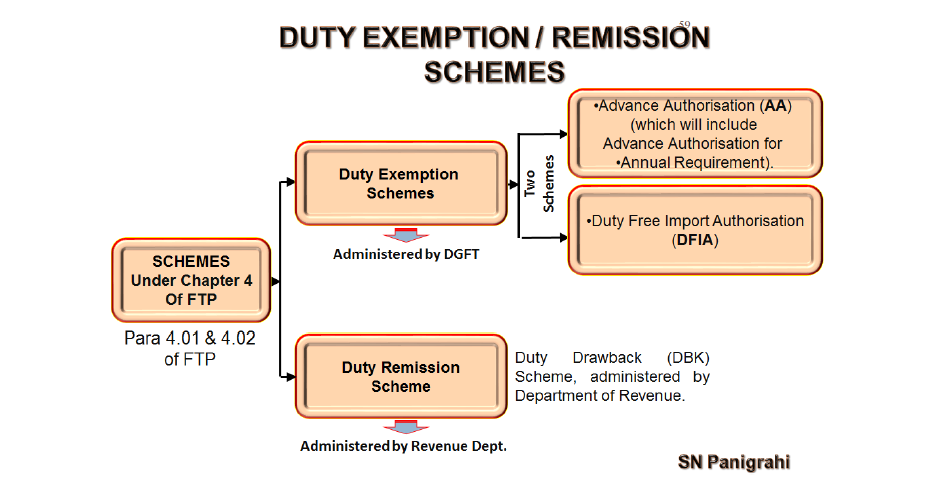 Advance Authorisation
As per 4.03 of FTP
(a) Advance Authorisation is issued to allow duty free import of input, which is physically incorporated in export product (making normal allowance for wastage). In addition, fuel, oil, catalyst which is consumed / utilized in the process of production of export product, may also be allowed.
(b) Advance Authorisation is issued for inputs in relation to resultant product, on the basis of SION (Standard Input – Output Norms)
Advance Authorization Issued either to a Manufacturer
Exporter or Merchant Exporter
As per para 4.05 of FTP, Advance Authorization is issued either to a manufacturer exporter or merchant exporter tied to a supporting manufacturer(s).
Validity Period for Import
Para 4.17 of FTP & Para 4.41 of HB
Validity period for import of Advance Authorisation shall be 12 months from the date of issue of Authorisation.
Export Obligation (EO) Period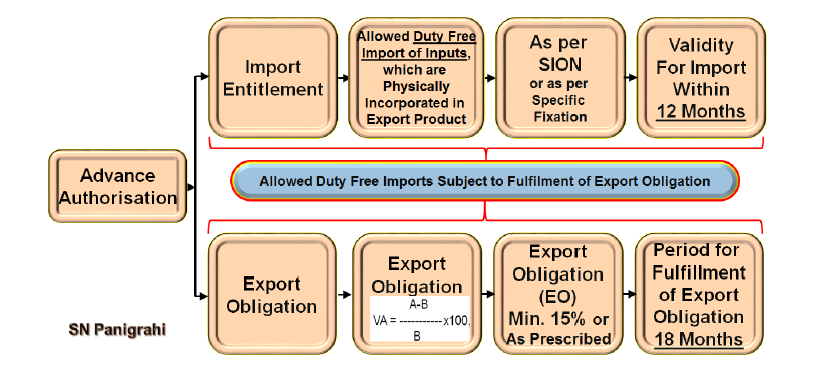 Details of Duties Exempted
As per Para 4.14 of FTP
Imports under Advance Authorization are exempted from payment of Basic Customs Duty, Additional Customs Duty, Education Cess, Anti-dumping Duty, Countervailing Duty, Safeguard Duty, Transition Product Specific Safeguard Duty, wherever applicable.
Import against supplies covered under paragraph 7.02 (c), (d) and (g) of FTP will not be exempted from payment of applicable Anti-dumping Duty, Countervailing Duty, Safeguard Duty and Transition Product Specific Safeguard Duty, if any.
However, imports under Advance Authorization for physical exports are also exempt from whole of the integrated tax and Compensation Cess leviable under sub- section (7) and sub-section (9) respectively, of section 3 of the Customs Tariff Act, 1975 (51 of 1975), as may be provided in the notification issued by Department of Revenue, and such imports shall be subject to pre-import condition. Imports against Advance Authorizations for physical exports are exempted from Integrated Tax and Compensation Cess upto 31.03.2018 only. (However, further extended upto 31-03-2020 vide DGFT Notification : No. 57/2015-20; Dated 20.03.2019 and Customs Notification : 08/2019-Cus, dt. 25-03-2019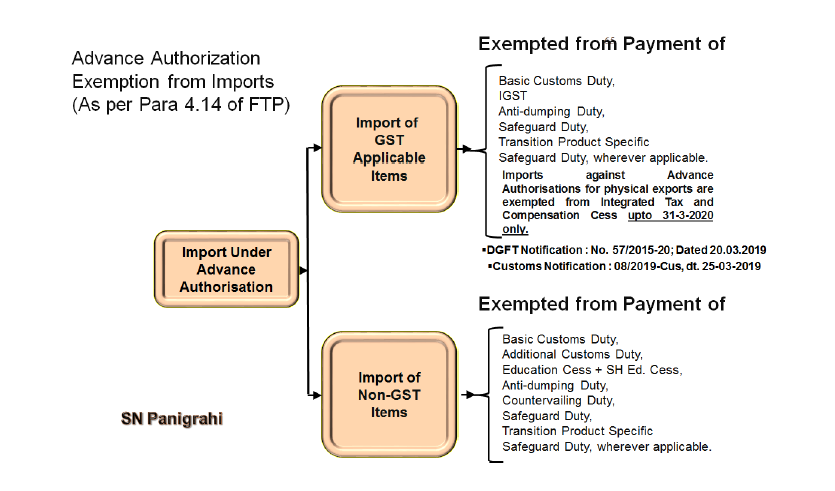 Download the full pdf on Advance Authorization Schemes under GST by clicking the below image:
Stay informed...
Recieve the most important tips and updates
Absolutely Free! Unsubscribe anytime.
We adhere 100% to the no-spam policy.
Discuss Now
Opinions & information presented by ConsultEase Members are their own.