Complete Analysis of EPCG Scheme
Complete Analysis of EPCG Scheme
This is a very Beneficial Export Promotion Scheme through which Capital Goods required for Export Production is allowed Duty-Free.
Objective
The objective of the EPCG Scheme is to facilitate import of capital goods for producing quality goods and services and enhance India's manufacturing competitiveness.
As per Para 5.01 of Foreign Trade Policy, EPCG Scheme allows import of capital goods (except those specified in negative list in Appendix 5 F) for pre-production, production and post-production at zero customs duty.
Capital goods imported under EPCG Authorisation for physical exports are also exempt from IGST and Compensation Cess up to 31-03-2019 only – 
Capital goods for the purpose of the EPCG scheme shall include:
            (i) Capital Goods as defined in Chapter 9 including in CKD/SKD condition thereof;
            (ii) Computer systems and software which are a part of the Capital Goods being imported;
            (iii) Spares, molds, dies, jigs, fixtures, tools & refractories; and
            (iv) Catalysts for initial charge plus one subsequent charge.
Import of capital goods for Project Imports notified by Central Board of Excise and Customs is also permitted under EPCG Scheme.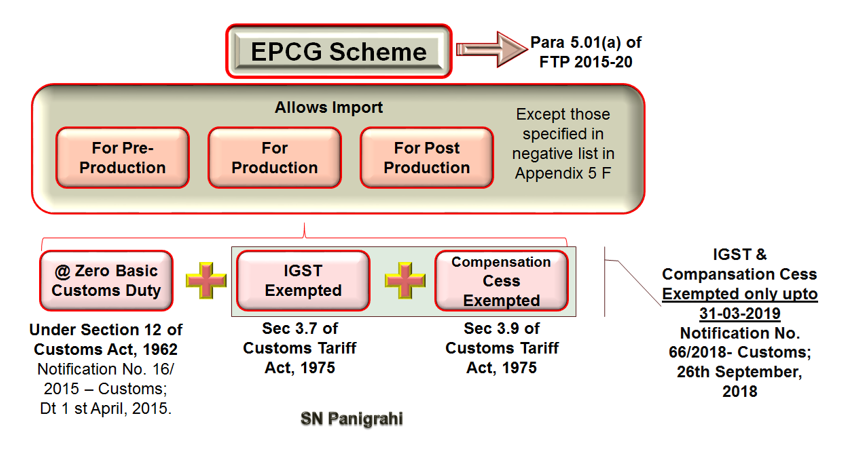 Meaning of Capital Goods:
Para 9.08 of FTP : "Capital Goods" means any plant, machinery, equipment or accessories required for manufacture or production, either directly or indirectly, of goods or for rendering services, including those required for replacement, modernisation, technological up-gradation or expansion. It includes packaging machinery and equipment, refrigeration equipment, power generating sets, machine tools, equipment and instruments for testing, research and development, quality and pollution control.
Capital goods may be for use in manufacturing, mining, agriculture, aquaculture, animal husbandry, floriculture, horticulture, pisciculture, poultry, sericulture and viticulture as well as for use in services sector.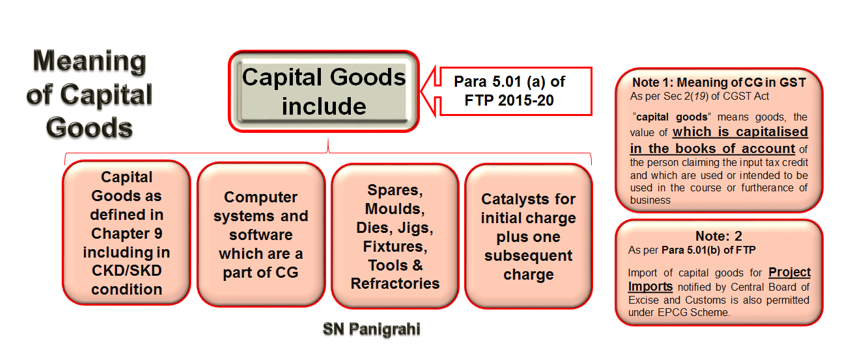 Coverage of EPCG Scheme
Manufacturer exporters with or without supporting manufacturer(s),
Merchant exporters tied to supporting manufacturer(s) and service providers.
Name of supporting manufacturer(s) shall be endorsed on the EPCG Authorisation before installation of the capital goods in the factory / premises of the supporting manufacturer (s).
Export Promotion Capital Goods (EPCG) Scheme also covers a service provider who is designated / certified as a Common Service Provider (CSP) by the DGFT, Department of Commerce or State Industrial Infrastructural Corporation in a Town of Export Excellence subject to provisions and conditions of Foreign Trade Policy 2015-2020.
Stay informed...
Recieve the most important tips and updates
Absolutely Free! Unsubscribe anytime.
We adhere 100% to the no-spam policy.
Discuss Now
Opinions & information presented by ConsultEase Members are their own.